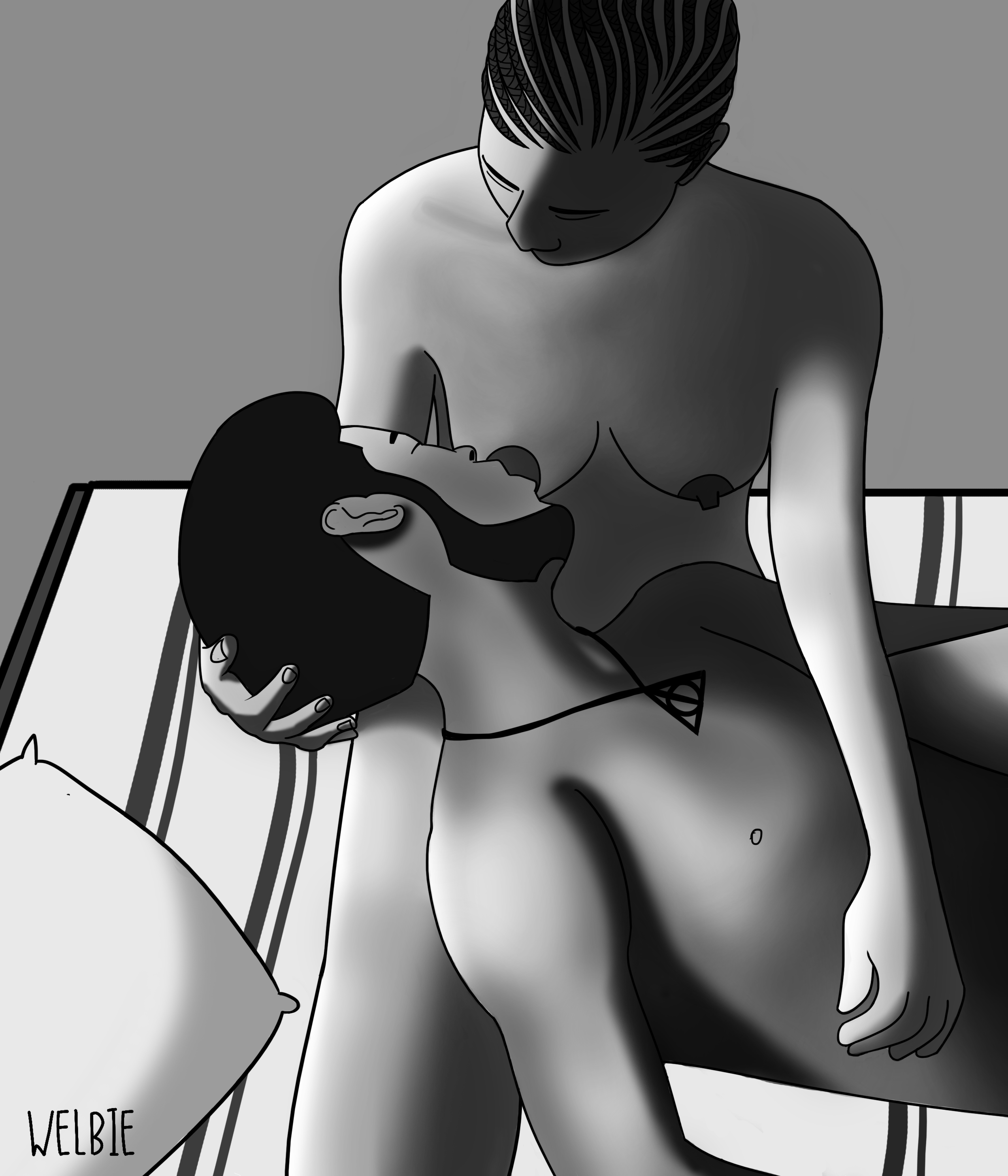 I make wild. Sorry, this go long small.
So last night like 11:30pm there about, I comot go buy Indomie for the junction edey my front there norr. Normal waiting time be like 10-15 minutes cuz e do aa small queue dey. No yawa. As I catch then the Indomie seller dey do then close because then ein everything dey finish so I really look sharp. Adey there wey some fine babe come through, she too want cop some Indomie wey the seller tell am say she no make lucky because then adey buy more of the things e lef. So play play wey I move to the shawty tell am say I go fit share the things adey buy plus am if she too she go share things plus me. Like joke like joke then my ronnings dey source, my eye get forken because the girl really nice. So fast forward 20-30 minutes later me then the girl dey twaa cool walkings go my hostel. We we close the Indomie seller.
We dey vibe for road top dey go, everything dey look nice – adey hold wonna two packs, one heavy with the whole Indomie garnishing wey the other pack fairly light.. the one then e lef as I buy the main one finish. E bee me say I take extra cash so I pay for everything wey I bounce plus the girl. We dey go all then adey pray say kwashey boys no go come do we yawa cuz then e knack 12 that. So I tell am jokingly say make we mia wonna walkings inside small cuz the area no safe like that wey she say oh yea, true ting. She barb.
We catch my side norr wey I set everything nice wey we start dey chop. Eno be wonna body o. The cho. I crack this thing as joke wey she giggle. There norr I see say eno be the Indomie pɛ e set. Oh so as we dey chop all then we dey vibe, she get some nice convo vibe be like that. Sake of that sef the Ceres Grapes wey adey save give my body make me pɛ I jam am sef, I go jie from the fridge come make we drink. We sati nice. I spy time then e pass 1 a.m.
"Ei it's past 1 a.m. how will you get back to your place?" Then adey look like my heart kut but na meboa, kai.. fake concern because then I know say here norr me then am all go dey this gbɛkɛ.
"You want me to go?"
I want you to go sɛn, ei ohemaa. The way we vibe paa tonight. Make uno lef. Abeg.
"Oh no I'm not saying that.. it's not safe at this time and all that. You can stay till morning if you'd like to."
"If I'd like to? What about you, would you like me to?"
Aye. Why ohemaa dey try switch on me like this.
"Oh yea.. I mean, we've had a nice time tonight, no matter how short it's been and I do enjoy your company. Looks like you do mine too. Your whole vibe is just right so that kinda goes without saying, I think."
Be like what I talk touch one of ein spots because she just pause watch me with some gleamy eyes. Wey she just start walk around the room slowly dey pick random stuff up dey watch them. I just base dey watch am as she dey watch my stuff. Adey chork see what she go talk.
"Yea right right.. I'd have to agree with that. You do have a way with words huhn?"
Kaish. Edey come happen for your boy – me. If eno be say I see this 'I-want-you-to' and 'If-you-want-to' argument for Twitter some time ago like she catch me off-guard then tear my marks that.
Ano answer ein question because then obviously ebi rhetoric. I calmly clear the cho things we chop then connect my drive to the TV make we get something watch then base. See, I really get movies so the selection alone take like 5 minutes but then I know say this movie thing no go catch anywhere. Because like joke, then adey feel bed dreadd. Herh the cho nearly over me.
"Errr.. so do you mind if I share the bed with you or I should take the very hard couch?"
She start dey laugh wey I start grin too. Chale I throw all the subtlety out the window at this point. E clearly be two things now: either ein mind dey or I really dey come enjoy this sleep. Wait, or both.
"Oh come come, the bed is big enough for two.. you should know this, it's yours."
Heh. Hehe. Hehehehe.
I move to my wardrobe go jie some nice pajamas I hardly dey wear, take give am. She like am roff. She go washroom go change wey I settle nicely for the bed top dey try watch the movie. About 5 minutes go then this girl no dey komot from the washroom but ano really pay attention, I figa say she just dey take ein time. Normal for girls before dem go sleep, right?
Adey continue watch the movie norr all I hear from the washroom be "I'm shy to come out."
Pause. Eh? Why wosop? What dey go on? Yie whaddix.
I move go dey the door ein back dey ask am say wosop for there, she dey give some explanations ano dey hear better. My heart start dey kut dey come. Then all I hear be "Don't laugh okay?" wey she open the door.
She jie ein weave.
I just hug am for there. Then I figa say something be aama, common weave. Wey then eno even bad. At all. I mean, then she get some neat cornrow. I just take some jokes pass inside wey I tell am say she still fine wey she watch me that watching again wey I see say she really dey take come dash me that. The sleep lef my eyes top. She quench the light wey she come base for the bed top make we all watch the movie.
Then the tension wey edey the room inside high pass the one edey my hostel ein front.. ano know how then adey breathe sef. Nobody dey talk, rydee the TV mohm dey watch we. She start fidget. I turn watch am, she do like she jie ein eyes.
"Ohemaa.. I root adey here, your mind dey for some pressings and tings?"
Then e dark but the illumination from the TV make I fit see ein face. She shock forken. Norr she start laugh.
I move to am, wey she receive me jɛjɛ. Ein lips soft like plantain dem lef make e ripe naturally wey dem fry am. Eno be the one edey ein moff adey talk. Ein brezz get some bofrot-dem-fry-am-afternoon-tee vibe, then I just dey nibble on am small small. Ein head borst my braainn, wey ano even be sapiosexual.
We move to wonna body finish wey I just bed. Ebi dem bedding some wey udey fit feel say your heart sef just relax dey pump blood better for your body inside. I sleep sef then adey feel say adey smile.
So wosop? I tinop this morning-tee, I conf small because me pɛ adey the bed top. Forget the bed sef, me pɛ adey the room inside. I realize say she lef but then nothing spoil because I know say she go link me later that day. I try bed again but I just jump off the bed as e hit me. Ano get ein contact. I try search for my phone ano see, wey I kai say I lef for the shorts I wear go buy the Indomie inside. My heart kut small mohm. That be where I start see say things no dey add up.
My hard drive no dey the TV ein back again; My shito lost for the fridge inside; E lef 3ghc for my wallet inside, 2ghc one and 1ghc one; Ano dey find my fresh Nike sneakers, I wear am just twice; The pajamas I jie give the girl make she wear, she take go; Ano dey find my HDMI cabl- Hello? Hello? Udey soak? Ah why udey laugh? I make serious adey tell you all this o.
The girl fade me crazy bro. My project work dey the hard drive she take top. Ah why you still dey laugh?
Eh? Then you figa say love story adey tell you?
Nah nah. She take do me. Fresh.
But that no be why I call you sef. You for get carpenter then come my hostel rydee.
If I tell you why, promise me say uno go laugh plenty like that?
Ano dey believe you.
Word?
Okay… Okay..
She lock me for the room inside sanso take the keys go.
Hello? Hello??
Aboa.